Taken from the 1965, Official NHRA Rule Book pertaing to the Gas – Coupe/Sedan Class aka Gas Class or Gassers for short.
1965 Official Drag Rules
III Street Section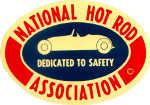 The street section is for "dual-purpose" cars capable of starting under their own power. Cars in this section must be capable of being driven on the street. Bodies, engines, drive trains, etc. may not be altered, moified or relocated except as noted in class requirments. Push starts not allowed. Return to the pit area by use of a push car is permited, Return to the pit area by use of a push car is permitted with any supercharged Street Section Car.
Any pre-1960 unblown 4-cylinder automotive production engine woth any type head and any year Chevrolet 6 cylinder engine with stock production type head may compete in the flathead classes of this section.
A. Gas Coupes and Sedans Division (G)
Seven (8) classes of competition in this division for non-supercharged cars. Class is determined by the total car weight divided by total cubic inches of engine displacement.

Designations: A/G, B/G, C/G, D/G, or E/G F/G preceded by car number
Class 'A' – 5.0 0 to 8.99 # per cu in
Class 'B' – 9.00 to 10.49 # per cu in
Class 'C' – 10.50 to 11.49 # per cu in
Class 'D' – 11.50 to 12.99 # per cu in
Class 'E' – 13.00 to 14.59 more # per cu in
Class 'F' – 14.60 or more lbs per cu in
Designations G/G and H/G preceeded by car number
Class 'G' — 5.00 to 10.99 # per cu in
Class 'H' — 11.00 or more # per cu in
For non-supercharged pre-1969 flathead V8's, in-line six-cylinder and straight 8 engines with stock production heads
B. Supercharged Gas Coupes/Sedans (GS)
Three (3) classes of competition in this division for car equiped with super-charged engines.
Designations A/GS. B/GS, C/GS preceeded by car number
Class A — 5.00 to 8.99 # per cu in
Class B — 9.00 to 11.99 # per cu in
Class C — 12.00 or more # per cu in
Class requirments for Supercharged Gas Coupes/Sedans division are the same as those outlines for all cars in the street section, except as noted below.
Ballast: Permitted. Refer to Ballast as outlined in the Safety Regulations.
Batteries: All wet-cell batteries must be located outside the driver or passanger compartments and must be securley mounted. A maximun of two passenger car batteries is permitted ot 150 pounds combined manimum weight.
Bellypans: Belly pans are permitted in Modidied Sports classes ony.
Body:  Gas Coupes/Sedans – Must have a coupe or sedan body orginally produced by an American automobile manufacturer. Any foreign coupe or sedan may compete i this division as ling as it meets all of the class requirments; a minimum of 92 inches stock wheelbase, fenders, frame, etc. Moderate customizing is permitted but bodies may be chopped, channeled, or sectioned not more than 4 inches total height reduction. Bodies cannot otherwise be altered in height, width, length or contour. Roll bars are required ub akk convertables, all customized cars (i.e. chopped, sectioned, etc) all Suercharged cars using fiberglass componebts, i.e., hood, fenders, doors, trunk lids, reguardess of class. Highly recommended in all other classes. Removal of front body panels or fender bracing not permitted. The use of fiberglass bodies in the Gas Coupes/Sedans Division is not permitted. Lightening bodies by drilling holes or gutting interior is not permitted. Convertable couples/sedans with roo-up windows compete in the division but must run with the top up. Sedan Devivery, pickup trucks, Ranchero, El Camino, etc may compete in this division. Pickup beds must be of standard height and width a minimum of 36 inches in length and have a full servicable pickup bed. All cars in this division must have fully operative mechanical door handles ot permit exit and/or entrance for either side. Bodies and/or frames may not be raised to gain weight-transfer to rear wheels.
Brakes: All cars in the Street Division must be equipped with four-wheel hydraulic brakes, operated by a foot pedal, mounted in the conventional manner. Emergency brake is optional.
Bumpers: Bumpers are not required; however, in lieu of rear bumper, a suitable (permanemtly arttached) push-bar must be installed on the rear of the car. Total weight of bumper and/or push bar with brackets must not exceed 50 pounds. Disguised ballast will not be permitted.
Driveline: May be modified ot fabricated to fit altered usints. Refer to driveline Safety Regulations.
Driver: Driver must be in stock location. Seats may be to the rear to permit added leg room, but not to exceeed 4 inches from stock location, provided no part of the driver's body extends behind the rear axle.
Engine Automobile engine required, however, year, make & model are optional. Any modifications may be made so the engine and/or component parts including clutch & flywheel. No more than one engine permited. Engine may be located but not to exceed 10% of the wheelbase as measured from the centerline of the front spindles to the neaest spark plug hole. Engines may not be raised more that 24 inches from the ground, measured from the centerline of the front crank pulley ot the ground. Rear engine location is not permited in Street Section, unless it is an orginally produced manufactured rear-engine car, retaining original engine.Modified-engine Corvairs compete in Gas Coupes/Sedans classes. If modified and blown Corvairs compete in the Superchared Gas Coupes/Sedans.
Exhaust System: Open exhaust, split manifolds and/or individual headers are permitted, but must be terminate in a collector, permanently and securely attached. A maximum of two outlest per car. All exhaust systems must be designed to route exhaust gasses in a downward and out–conventional–manner, away from the car and tires. Mufflers and tailpipes are optional. No flexable pipe permited on any car running in competition.
Fenders: Gas Coupes/Sedans—must have four full stock production type automobile fenders. Exact duplicated of stock fenders made of fiberglass are permited. Rear fenders may be altered for clearence to permit the use of wide slicks.
Fender Splash Pans: May be trimmed for header clearence, but not removed.
Flywheel/Clutch: The use of stock type cast-iron flywheels and/or pressure plates is prohibited. Explosion proof units, in lieu of the above, are mandatory.
Flywheel Sheild: Required on all cars in this section except ones equipped with a pre-1961 Hydramatic transmissions. Non-supercharged care when equiped with a TorqueFlite transmission do not need flywheel sheilds.
Fuel Systems: Refer ot Safety Requlations, Fuel Systems.
Frame: Must be stock automobile type frame. Properly reinforced stepped -frames are accepted. Cross members may be altered or relocated.
Hood: Required on all cars in this section. Side panels may be omitted. All carburetors, injector bodies and supercharged must be completely covered by the hood. Injector tubes and supercharger air scoops may extend through the hood are accepted.
Radiator & Grill: Required, Must be a stock passenger car type as large in overall frontal area as the original radiator, mounted in a conventional forward location.
Rearend: Quick-change rear-ends, locked differentials, or ratchet-type (limited slip) rear-ends are accepted, only if installation includes suitable safety hubs. Rear-wheel drive only; four-wheel-drive care are not permited in Street Section.
Street Equipment: All cars in Street Section must be able to start under their own power> License plates, generator, windsheild wipers/motors, fans and fan belts and horns are optional. Headlights and tail-lights are required for legal on the street operation are required for competition.
Suspension: Each car in this section must have a full production-type suspension system; on commonly used by automobile manufacturer, and equiped with at least one hydraulic shock absorber per wheel. Rigid mounted axls are not permited. Excessive chopping and/or machining of component chassis and suspension parts is prohibited.
Transmission: Must have full transmission, either standard or automatic, with full shift-pattern and gears for transmission used. May be of any year, make or model. Any gear ration accepted. A minimum of 3 forward and 1 reverse required on all stick=shift (manual) transmissions. Transmissions must remain in conventional locations, determined by engine used.
Upholstery: Interiors may not be gutted. Must run full upholstery, equivalent to factory specifications. Floor mats optional. Bucke seats may replace stock seats (two required), only if they are fully upholstered. Rear seats are optional. Factory-type upholstery and/or panneling must be used in lieu of the above.
Roll Bar: Roll bars are required on all cars as desgnated in Bodies headings; refer also to Safety Section, Rool Bars, for construction information and requirments.
Wheelbase: All Gas Coupes/Sedans, Supercharged Gas Coupes/Sedans must retain stock wheelbase length and tread width for the type os car body used. Minimum wheelbase length is 92 inches. All 1948 to 1953 English Fords, Anglia seris, although not meeting minimum wheelbase requirements are accepted for competition in Gas Coupes/Sedans classes. Ruling applies onlu of entry meets all other class regulations and requirments. Engine installations are restricted to small-block Chevys or equivalents: i.e., 265, 283, 327, etc. Larger basic blocks not accepted. Superchargers not permitted. Wheelbase must remain stock.
Wheels & Tires: Each car competing in Gas Coupes/Sedans class, Supercharged Gas Coupes/Sedans class must be equipped with automotive type wheels and tires suitable for street use. Magnesium disc-type wheels are permitted for use on the rear. Lightweight automotive-type wire or motorcycle wheels are not permitted.
Windshelid & Windows: Windows may be replaced with Plexiglass of 1/8 inch minimum thickness.