These are the members cars that are currently being raced with the Nostalgia Gassers Racing Association. Some of our members also have other old gassers that can no longer be raced & have been retired. You can see these in the retired section. The retired gassers are still brought out for display from time to time.
---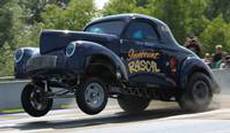 Owner/Driver: Steve Bacon
1941 Steel Willys
327 CI SBC
Hilborn Injection
Lenco 4 speed trans
514 Pontiac Rear End
---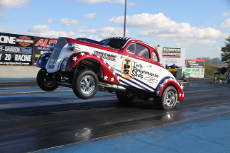 Owner/Driver: Ted Beach
Aurora, IL
1937 Chevrolet
Uncle Sam
Engine: 481 Rodeck
Trans: Turbo 400
Rear end: Ford 9″ with 4.30 gear
Best time: 9.51 @ 139mph
---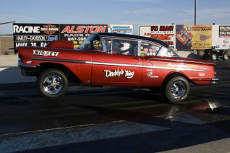 Owner/Driver: Ted Beach
Drivers: Brandon Beach and Joe Beach
Aurora, IL
1958 Chevrolet Bel Air
Daddy's Thing
Engine: 427 big block Chevy
Trans: Turbo 400
Rear end: Olds/Pontiac with 4.56 gear
Best time: 10.58 @ 125mph
---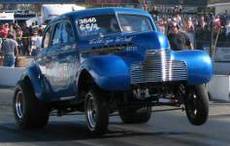 Owner Gary Blasey
Clifton, Il
Driver: Brian Blasey
1940 Chevolet
Original Gasser built into a race car in 1959, same owner for 53 years….
Small Block 377 ci
Trans: 5 speed  yes it has a clutch..
Olds 5.88 rear
Runs in the nines
---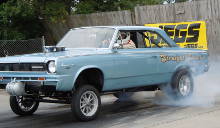 Owner/Driver: Mark Cambell
St. Louis, Mo
Car: 1966 Rambler 440 American.
Motor: AMC 390 .30 over with the following parts.
11:1 Jahns pistons
Crane solid cam and lifters
Edelbrock UR18 tunnel ram
2-Holley 450 cfm carbs
Trans: Borg Warner T-10
Rear end: Ford 9 in with 4;10 gears and spool
The car was 6 cyl. automatic when I purchased it in December 2009 it just went through a recent restoration. The previous owner was so proud of it, little did he know.
By October 2010 the build was on. I took the car to a good friend of
mine Rick Abt who did the fabrication.
We started off with a Speedway axle kit. Rick then proceeded to make
up the 8 pt roll bar and ladder bars. Next was the aluminum work in
the interior.
---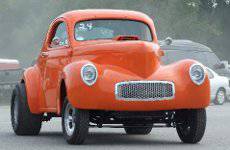 Owner/Driver: Tom Cray
Fenton Mo
Car: 1940 Steel Willys Coupe
Motor: Cadillac 472ci
Trans: T-350
Rear end: Ford 9″ w/3.0 gears
Best Time: 12:05 @ 110mph
Found in Arkansas.Purchased for $200
---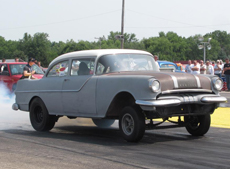 Owner /Driver Bill Eveland
55 Pontiac Chiefton
---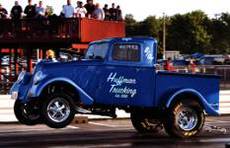 Owner/Driver:Bryan Huffman
Kewanee,IL
1933 Willys Pick up
Motor:355 SBC with 6:71 Blower
Trans:Turbo 400
Rear End: 1960 Olds w/4:56 Gears
Best Time: 10:14 @ 135mph
---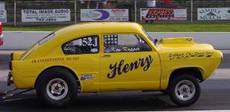 Owner/Driver: Ken Kapper
Fenton Mo.
52 Henry J Fibertrends 1 pc front end
Eng. 427 + bbc Chevy
Trans : Turbo 400
Rear end: 1957 Olds/Pont 4.10 gears w/Summers brothers axels/spool
Best et 9.70@138mph
I purchased Henry in 1974 from a Alemeda Ca. wrecking yard for $125.
---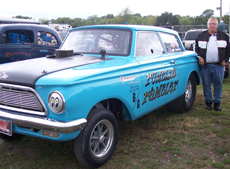 Owner /Driver Jack Kaylor
62 Rambler American
---
Owner/Driver: Doug Jent
Tuscola, ILL
1941 Willys coupe  ( REAL STEEL BODY ) with glass front
451 Big Block Chrysler Wedge
727 Torqueflite with 5500 converter and trans-brake
Dana 60 with 4:88 gears
This car ran B / Gas in the early to mid 60's in southern ILL
The best ET  1/4 mile was  9.87 @ 136 MPH  at Beach Bend in Bowling Green
The greatest race was running side by side  with Ron Norman and his blue willys through the lights with matching ET's we both ran 9.87 that was really a fast weekend.
---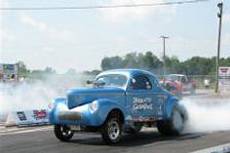 Owner/Driver: Randy Tavoletti
Hometown: South Chicago Heights,IL
1941 Willys
Steel Body
Fiberglass front end
Engine: Small Block Chevy, 6:71 Blower
Trans: Powerglide
Rear end: 60 Olds
---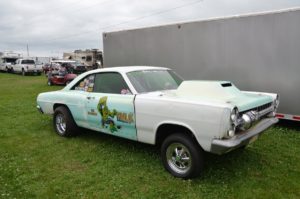 Owner/Driver: George Gregory
Year/Make: 1966 Comet Cyclone GT
---